Buying shapewear can sometimes be a daunting and confusing process. What shapewear will be comfortable for all day wear, what shapewear options best suit my figure and will it be seen under my clothing? All these questions can be difficult to answer if you don't know what you are looking for so we have narrowed it down to three easy steps to help you make your shapewear decisions easier. Check out our handy hints at the bottom of this guide and all our different shapewear categories available. We also have a definitions guide to help you understand some confusing features of some shapewear products.
Before buying shapewear it is important to consider the following three things:
What shape are you?
What shapewear style suits your body?
What will you be wearing over your shapewear?
STEP 1 : What Shape Are You?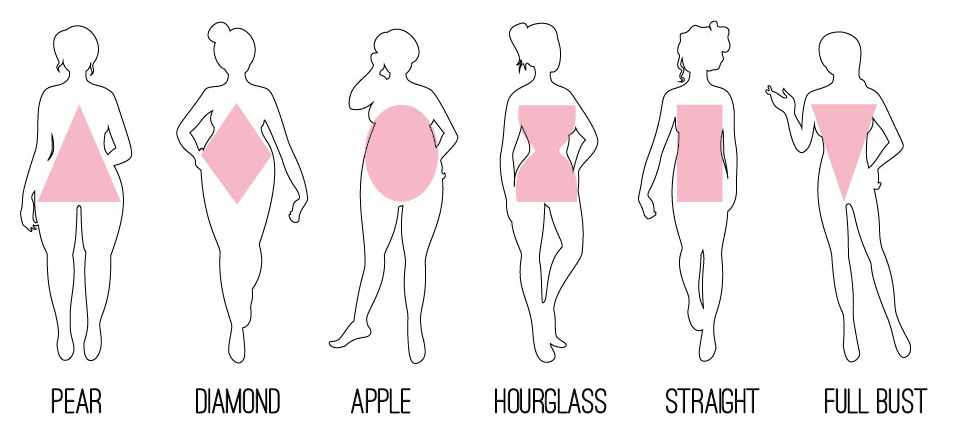 STEP 2 : What shapewear style suits your shape?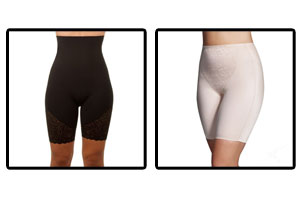 Pear Shape
You are bottom heavy with fuller hips, thighs and bottom compared to your bust region. You have a smaller bust and waist so need coverage over your thighs, hips and bottom.
Your Shapewear Match:
Long Leg Shorts or High Waisted Shorts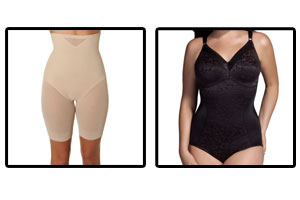 Diamond Shape
You are well proportioned all over and carry most of your weight around your midsection. You need to be looking for products that give control and smoothing through your midsection.
Your Shapewear Match:
Bodysuits or High Waisted Shorts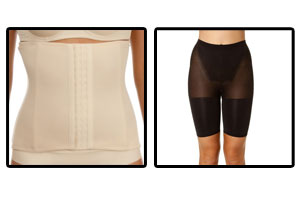 Apple Shape
You are have a fuller midriff and carry some weight in your upper legs. You also have narrow shoulders and hips. You need to be looking for products that give you control over your midsection and upper thighs.
Your Shapewear Match:
High Waisted Briefs or Waist Cinchers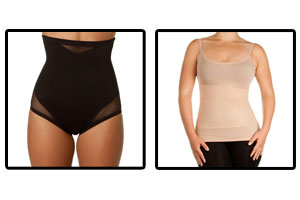 Hourglass Shape
You are fuller in the bust, hips and thighs with a small waist, giving you an hourglass figure. You should be looking for shapewear to smooth your curves either through your top or bottom region and accentuating your small waist.
Your Shapewear Match:
High Waisted Briefs or Camisoles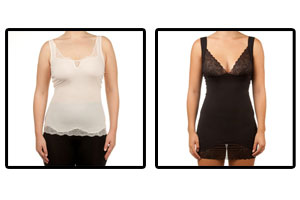 Straight Shape
Your bust, waist and hips are all allocated evenly. You don't have any obvious curves with quite a slim, straight figure. You should be looking for shapewear options that create curves around your waist or light control garments that smooth any unwanted lines.
Your Shapewear Match:
Slips, Light Control Briefs or Waist Cinchers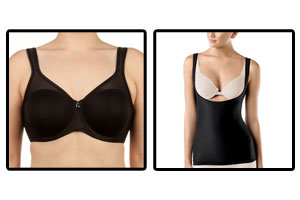 Full Bust Shape
You are bigger up top with broad shoulders or a large bust. You have significantly smaller hips and a smaller waist. You need to be looking for shaping or minimising bra's or shapewear options that allow you to wear your own bra because you have a broad back or a larger bust.
Your Shapewear Match:
Underbust Options or Shapewear/Minimising Bra's
STEP 3: What will you be wearing over your shapewear?
Options 1 - Everyday Clothing
We Recommend: medium control hi-cut or high waisted briefs, shaping leggings, light control slips or camisoles
Option 2 - Loose Fitting Clothing
We Recommend: medium control slips, camisoles or dresses, longline shorts
Option 3 - Tight Fitted Clothing
We Recommend: firm control bodysuits, high waisted shorts or briefs, waist cinchers
Option 4 - Sheer Clothing
We Recommend: medium control camisoles, slips or dresses with lace or embroidered detailing
Feature Definitions
Extra straps/hooks: some shapewear have extra hooks and straps that allow you to attach your shapewear to your bra and ensure it stays in it's correct position

Silicone edges: silicone edges ensure shapewear stays in its correct position without straps and hooks. Some people can be allergic to silicone so be sure to check if products have silicone if you are allergic.

Sheer/Lace Panels: these decorations add sexiness to your shapewear and are best worn for special occasions.

Bonded Seams: seams are bonded together making them smoother and allowing a seamfree look under clothing.

Cellulite Reducing: shapewear with fabric that is infused with various products or specially knitted that is designed to reduce the appearance of cellulite.
Handy Hints
If you are unsure about your sizing, always go up a size or purchase both sizes and return one. We offer FREE 90 day returns to make this easier for you

Once you have put on your shapewear, move around in it, sit, stand, bend over etc.. If it holds in place you have purchased the right product. If it moves, then you may need another size.

Check where your crotch is positioned. If it is too low you will have problems walking and will become uncomfortable very quickly. Pull up on each side of the garment and make sure it is sitting correctly like a normal pair of briefs.

If your shapewear is rolling up or down it means it might need replacing. If it is new, you should look at a longer line option or a bigger size. Silicone edges on shapewear also might be a better option for you as it holds the garment in place once on.

If you want to wear shapewear but feel you get too hot in it, go for something made from cotton. This is a much more breathable fabric.
Care Instructions
Do not tumble dry as garment may shrink

When putting on tight shapewear remove all rings and bracelets so they don't catch on the material. Watch out for sharp fingernails as well.

Ideally wash your shapewear by hand or an easier alternative is to put them in a washbag on cool wash. Dry away from direct heat and never iron.
If you have any other queries, don't forget you can always contact our Customer Service Team as they can always help give advice on your shapewear needs.
Now that you know all about shapewear, it's time to go shopping!