Step 1: What Print or Trend Do You Want for Summer?
Buying new swimwear for Summer and those island getaways is always a fun experience, except when you don't know what you are looking for. If you know your size, style preference and favourites prints, then it's easy but for some this can be a difficult choice, so we have put together an easy to follow guide for finding the perfect swimwear for you this coming season. We'll take you through the different trends available this Summer and what those different prints look like in different styles. We'll also help you decide which swimwear style suits your body shape and figure. We have many different options available for all the different body shapes out there so have no fear, you will be able to find something you like. We also have some great Care Instructions to make sure you get the most out of your swimwear for more than one season and we also have some great shaping swimwear to hide those lumps and bumps on the beach or at the pool.
Aztec Inspired - Aztec Prints
Making a comeback this season are aztec and geometric prints, full of bold, earthy tones for the warmer months. These add a funky twist to the traditional prints for summer and they are perfect for mixing and matching. Feel like a global traveller in the different aztec prints available, get creative and have fun with it. Show off your playful side and pick a contrast print that reflects your personality. Lots of emebellishments, jewel tones and bright colours are sure to add a bit of luxury to your swimwear collection for Summer.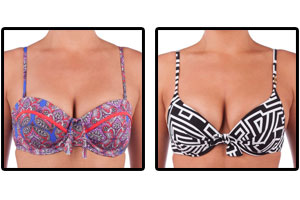 Hello Sailor - Nautical Prints
Take a cruise this Summer with these nautical inspired prints and stripes, a must for taking a dip in the sea. A timeless swimwear style suitable for every shape. Nautical swimwear is coming in all designs this Summer, from bold prints and stripes to checks and spots, there is a swimsuit for everyone's style. Look for styles with that added nautical feature of a belt or buckle to really top off your Summer style.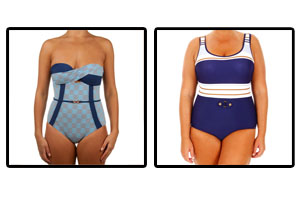 Mod Classics - Black & White Prints
Elegant and classic, this style will always make you feel amazing and beautiful. Bold designs in black and white create the perfect slimming silhouette for both the pool and the beach. Bring out your inner goddess with pure luxury and empowering swimwear fits, classic styles such as this can be your most flattering. Look for styles with ruching, slimming black or white panels or moulded shapes to suit your figure.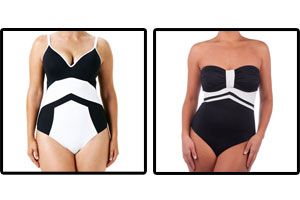 Tropical Jungle Fever - Tropical Prints
This trend is our top pick for going on holidays this Summer. These tropical and jungle inspired prints look great on any figure and come in a great range of styles for Summer. Green based prints with either leaf or floral detailing, fun straps and ties make these printed swimwear options versatile for many shapes and needs for the upcoming season. Feel like you are on an island holiday before you even get there with these great tropical and jungle prints.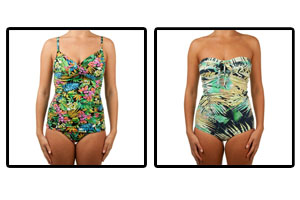 Floral Infusion - Floral Prints
Create romantic swimwear glamour with motifs of flowers and floral beauties. Bright or pastel prints, floral is sure to brighten up any Summer day! Pretty details and divine contrasts, floral really is a gorgeous style for Summer. Look for floral prints with a white base if you are wanting to stand out, or a darker base if you want something a bit more dramatic. These light and airy floral prints are our top pick for the upcoming warmer months.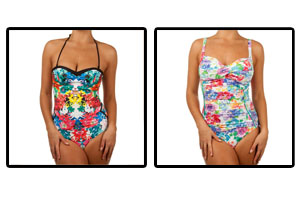 Stripe Me Spotty - Spots & Stripe Prints
Stripes, the perfect slimming option this season no matter what size you are looking for. Whether you are going for a nautical style, retro, classic or bold statement piece, a perfect pair of striped swimmers is an essential this Summer. Mix and match different stripes to suit your style. Thin or thick, horizontal or vertical, all stripes are in. Spots and polka dots are also making a come back this season. Whether they are small or big, polka dots are a nice girly touch to any plain swimwear option and add a flirty feel to any black and white swim piece.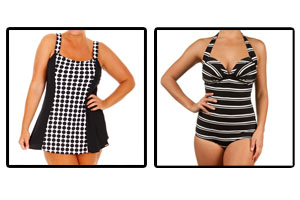 Digital Age - Digital & Photorealistic Prints
This trend is our top pick for going on holidays this Summer. These digital prints look great on any figure and come in a great range of styles for Summer. Photorealistic graphic prints are a new-age, fun new trend, great for making a statement. Inspired by real life environments, object & landscapes, these swimwear options are one of a kind pieces.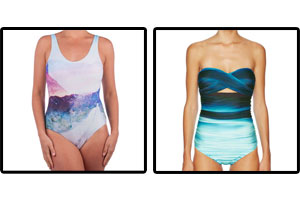 Blocks of Colour - Colour Block Prints
The hottest trend this season will be full of geometric prints and statement pieces, full of bright and bold colours and shapes. Well structured bright colours stand out amongst the crowd in this style. Funky shapes and lines create a slimming look for all sizes whilst being uber trendy this season. Check out the fluro options or go for a plain bold colour, mix & match for the ultimate set or grab a striking one piece with colour blocking all over.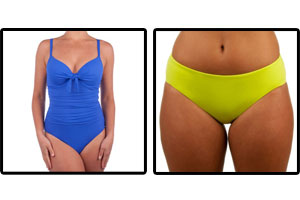 Step 2: What Swimwear Style Suits Your Body Shape?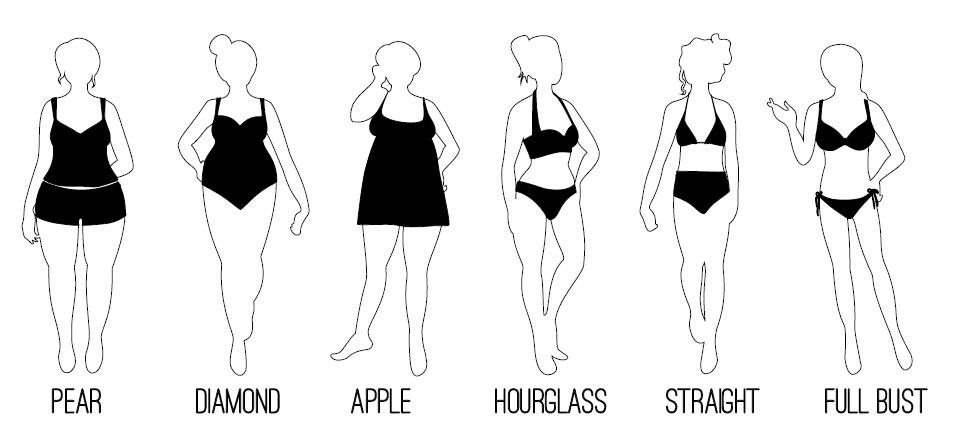 Look for styles that give you coverage over your hips and thighs. You want to look slimming and figure flattering in your bigger areas which is your hips and thighs.
We Recommend: Boyleg Shorts, Tankini Tops, Bandeaus, Roll Top Pants or Skirtini's
Look for styles that have ruching across your middle or power mesh lining. These styles are extremely flattering and can make you look one or two sizes smaller. Look for styles with ruching down the sides or contrast coloured panels for a slimming effect.
We Recommend: Ruched One Pieces, Powermesh shaping one pieces, High Waisted Pants, Tankini Tops or Halters Tops
Look for styles that give you nice flattering coverage over your middle section which is your problem area. Swim dresses are now such a popular style that they come in a fabulous range of sizes and colours to suit every women's needs and style. Most have built in pants and powermesh lining for even more slimming features.
We Recommend: Swim Dresses, Wrap One Pieces, Skirtinis, Halter Tops, Tankini Tops or Roll Top Pants
Look for styles that highlight your amazing hourglass figure. If you have issues with your hips, try ruched hipsters and if you have problems with your bust, try halter tops which pull them up and highlight your assests. Printed separates are our top pick for your hourglass shape.
We Recommend: Halter Tops, Bandeaus, Ruched Side Pants, Twist Front Pants, Roll Top Pants or Cut-out One Pieces
Look for styles that highlight your slim figure or create curves. If you want some more curves, try high wasited pants which come in at the waist and triangle tops or bandeau for your smaller bust. If you want to highlight your slim figure try tie side pants or tie triangle tops, these are ideal for your shape and are also flattering.
We Recommend: High Waisted Pants, Triangle Bikini Tops, Bandeaus, Frilled Pants or Tie Side Pants
Look for styles that support your larger bust including D Cup tankini singlets or moulded balconette bikini tops. You have a nice slim waist which is great for tie side pants or standard pants but if you want to add volume to match your bust, try a frilled pant to add a bit of flair.
We Recommend: D Cup Halter Tops, Moulded or Underwire Bikini Tops, Tie Side Pants, Frilled Pants or Standard Pant
Step 3: Learn How to Get the Best Out of Your New Swimwear
At Zodee, we love swimwear as much as you do and we would love for you to get the best out of your new swimwear. When purchasing swimwear, make sure you look for styles with chlorine resistant material or thicker materials. These wil last longer, especially if you swim in pools more often than you do at the beach. To ensure your new swimsuits longevity, please see below our Swimwear Care Instructions so you and your swimwear can enjoy many Summers to come!
DOs
Rinse thoroughly after use
Hand wash separately in cold water
Use mild/detergent/soap if you must
Drip dry or lay flat in shade
DON'Ts
Do not wring, soak, rub or bleach
Do not roll up or store wet
Do not iron or dry clean
Do not put in washing machine
Do not tumble dry
REMEMBER
Some colours may alter in appearance or become transparent when wet
Colours and prints may fade in the sun over time
Avoid suntan lotions, tanning oils/creams, pools treated with harsh chemicals and abrasive surface

Looking for Something Slimming?
If you are looking forz swimwear that is slimming and designed to make you look one or two sizes smaller at the beach or pool then check out some of the swimwear options we have from some of our best selling shapewear swimwear brands including Capriosca, Miraclesuit, Nancy Ganz Swim, One Summer, Moontide, Baku, Sunseeker and Funkita Form. Below are some options of styles we recommend which all have following features to flatter and slim your figure.
Look for Styles That Have
Power Mesh Lining
Front or Side Ruching
Contrast coloured side panels for a slimming effect
Wrap Designs across your mid-section
Swim Dresses with Built in Pants