For many, buying a bra can be a harrowing experience, but here at Zodee we are trying to make this as simple and even as enjoyable as possible. We hope to guide you in finding the bra that's perfect for you and explain some of the terminology used by bra manufacturers that feels like it's just there to confuse you!
Fitting Guide
The first step in buying any bra is getting the size right. Did you know that as many as 80% of people are wearing the wrong sized bra? Could that be you? Surely not! Then what's the harm in measuring yourself anyway - you might get a surprise! Many people are convinced of their size and have been wearing the same (wrong) size for 20 years or more! Your body does change over time, and so should your bra wardrobe! We encourage you to keep an open mind when measuring for bras.
Bra sizes are calculated based on two measurements; your underbust and bust. It is the combination of these sizes that determines the correct size for your you. The cups are sized relative to the band, so if you were to try a smaller band size but keep the same cup size, the cups would be too small. If you need to drop a band size, you will need to increase the sup size by one to compensate. For example, if a 12C bra is the right cup size but is too big in the back, then you should try a 10D. Not obeying this rule is the most common issue when fitting for a bra and should not be ignored.
Step 1 : Measure Your Underbust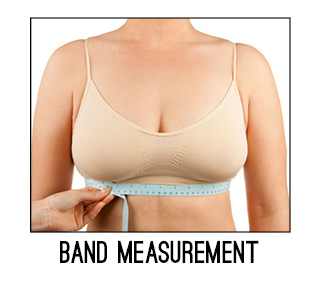 Whilst wearing your most comfortable bra, but no clothing, with a standard measuring tape (not a rigid one) place the tape on your rib cage directly under the bust as pictured.
► The tape should be straight (not up or down at the back) and be reasonably taut, but neither loose or tight.
► Using a mirror will aid you in getting the tape as straight as possible.
This is your back measurement or band size. Take a note of this measurement in centimetres, rounding to the nearest centimetre.
Step 2 : Measure Your Bust
Again with your bra on, place the bra on the largest, fullest part of your breast, as shown and record the size in centremetres.
► The tape should not be too tight as to change the shape of your breast.
► Ensure that the tape is straight across the back, again using a mirror to aid.
Record this measurement in centimetre, again, rounding to the nearest centimetre.
Step 3 : Determine Your Ideal Bra Size
Once you have these 2 measurements, use the this sizing chart to determine your ideal size.
1. Follow across the top row until you find the correct measurements for you under bust, with the Band Size Directly underneath
2. The follow the table down until you reach the appropriate Over Bust measurement and read the cup size from the left
For example, if your Under Bust measurement is 75cm and your Over Bust measurement is 92 cm, then according to the chart you are a 12C.
Under Bust (cm)
65-67
67-72
72-77
77-82
82-87
87-92
92-97
97-102
102-107
107-112
Band Size (AU)
8
10
12
14
16
18
20
22
24
26
Over Bust Measurement (cm)
AA Cup
75-77
80-82
85-87
90-92
95-97
100-102
105-107
110-112
115-117
120-122
A Cup
77-79
82-84
87-89
92-94
97-99
102-104
107-109
112-114
117-119
122-124
B Cup
79-81
84-86
89-91
94-96
99-101
104-106
109-111
114-116
119-121
124-126
C Cup
81-83
86-88
91-93
96-98
101-103
106-108
111-113
116-118
121-123
126-128
D Cup
83-85
88-90
93-95
98-100
103-105
108-110
113-115
118-120
123-125
128-130
DD Cup
85-87
90-92
95-97
100-102
105-107
110-112
115-117
120-122
125-127
130-132
E Cup
87-89
92-94
97-99
102-104
107-109
112-114
117-119
122-124
127-129
132-134
F Cup
89-91
94-96
99-101
104-106
109-111
114-116
119-121
124-126
129-131
134-136
G Cup
91-93
96-98
101-103
106-108
111-113
116-118
121-123
126-128
131-133
136-138
GG Cup
93-95
98-100
103-105
108-110
113-115
118-120
123-125
128-130
133-135
138-140
H Cup
95-97
100-102
105-107
110-112
115-117
120-122
125-127
130-132
135-137
140-142
HH Cup
97-99
102-104
107-109
112-114
117-119
122-124
127-129
132-134
137-139
142-144
J Cup
99-101
104-106
109-110
114-116
119-121
124-126
129-131
134-136
139-141
144-146
Band Size (US/UK)
30
32
34
36
38
40
42
44
46
48
Band Size (EU)
65
70
75
80
85
90
95
100
105
110
---
How To Tell If You're Wearing The Wrong Sized Bra
Baggy Cups

If you're wearing an underwire bra and your cups start to bunch up it means that your cup size is too large. Similarly if you are wearing a contour bra and there is room between the cups and your breasts your cup size is too large.

Double Boob

If the neckline of your bra starts to dig into your breasts and creates a double boob then your cups are too small.

High Riser

If the back of your bra is riding up higher than your natural under bust line then your band size is too small.

Under Boob

If the band of your bra is rising up and starts to show your breast then your band size is too big. It could also mean that your straps are too tight.

Side Boob

If your breasts start to fall out the sides of your cups then your cup size is too small. It could also mean that your bra has too much padding.
---
Choosing The Right Bra
Choosing a bra is depends upon many factors, quite apart from choosing the right size. Some of these are are simply personal preference, such as the amount of cup coverage you need, some depend on your size as you may require more support not available in all styles. It also depends on the garments that you choose to wear on top of your bra.
Cup Shape
Contour - A cup that has a defined shape from light padding.
Unmoulded - A cup that has no defined shape with flimsy material.
Cup Design
Full Cup - Cups that cover the entire breast.
Demi Cup - Also known as a half cup bra, cups cover half of the breast.
Balconette - Low cut style with wide set straps. A shallower U shaped underwire is used and is designed to be more revealing and to create cleavage.
T-Shirt - Has no seams over the cups. Designed to provide a smooth appearance under a tight t-shirt.
Soft Cup - Gets support from the under bust band without the use of underwire.
Minimiser - A full cup bra that encapsulated the breasts and uses compression to minimise bust appearance.
Specialist Bras
Sports - Coming in different levels of support, a sports bra is designed to be close fitting to reduce movement whilst exercising.
Maternity - A maternity bra is designed to be adjusted over the course of pregnancy. Most styles have additional hooks & eyes for your changing rib cage. Available without underwire and with flexi wires so as not to block milk ducts under the arm.
Nursing - Designed to provide quicker, easier access to the nipple for breastfeeding babies. Clips on the straps allow the cup to drop down and can be supported with an A-Frame. Usually lined with cotton and with minimal seams on the cup so irritation doesn't occur.
Mastectomy - Designed for women who have had one or both breasts surgically removed. The cups are double lined, usually with cotton with an opening for a prosthesis to sit comfortably
Post Surgery - Suitable for use straight after sugical operations like a mastectomy, breast augmentation or implants. Most are front opening because of the lack of movement due to the surgery and compression.
Features
Plunge - Plunge bras have a low centre front
Front Closure - Front closure bras have clips, hooks & eyes or velcro fastening fronts and are great when a smooth back is needed or for anyone with limited movement
Adhesive - 2 kinds, reusable and disposable. They adhere to the breast and offer very little support
Racerback - Mainly used in sports bras, the straps go over the shoulder staying close to the neck and form a v shape at the centre of the back used to keep straps from falling off the shoulder.
Multiway - Adjustable straps are used provide multiple uses for a bra so that it can be worn with many styles of clothing
Longline - Bra band sits further down the torso.
Bandeau - A bra that sits straight across the bust to wear with strapless garments
Crop Top - Crop tops provide great coverage of the breast with only underbust banding and no underwire. Can be used for sports, sleeping or as extra support over a bra
Body Shaping - A bra that also shapes around your back.
Air/Liquid Filled - A push up bra with liquid or gel padding
Removable Padding - A bra with removable padding so you can adjust the level of boost you want.
Structure
Underwire - Underwire bras have a semi circular piece of metal, plastic or resin sewn into a channel under the cup to support the weight of the breast. It starts in the middle of the chest and runs to under the armpit.
Wire Free - A wire free or soft cup bra uses banding under the bust to support the bust without the use of underwire.
Flexi Wire - Flexi-wire is used in maternity bras to provide support without being restrictive. The wire moves with your body meaning it won't restrict your milk ducts or cause any breast health problems providing you are wearing the correct size.
Padding Level
None - Supports your breast with no padding.
Light - Has a small layer of padding for support.
Medium - Supports your breasts with a medium amount of padding. Lightly boosts cleavage.
Push Up - A bra that boosts your cleavage and provides a large amount of support.
Ultra Push Up - A bra that substantially boosts your cleavage and can make you look a cup size larger.
Graded - Other types of padding levels dependent on the brand.
Fabric Styling
Sheer - A bra that you can see through.
Lace - A bra that has lace or lace detail.
Printed - A bra with a printed pattern on it.
Embroidered - A bra with stitching detail on it to make a pattern.
Plain - Bras that have no patterns or trims. Very basic.
Impact Level
Low - Ideal for light-impact activities or everyday use.
Medium - Support Factor2 -Ideal for medium-impact activities such as walking, softball and cycling. SF2 sports bras can reduce breast bounce by 45-50%
High - Support Factor 3 - Ideal for high-impact activities such as running, netball and soccer. SF3 sports bras can reduce breast bounce by over 50%
Extreme - Support Factor 4 - Ideal for extreme impact activities such as long-distance running, kick-boxing and athletics. SF4 sports bras can reduce breast bounce by up to 60%